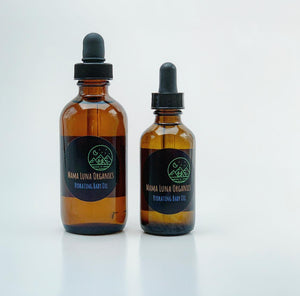 This organic oil is seriously spectacular! With Calendula and Chamomile infused oil your Babe will be well protected AND moisturized. Works great after a bath or for common baby dry skin. This oil is for everyone and anyone and smells soooo yummy. All Mama Luna Oils are infused in the Sun and Moon before being bottled.
Directions: For Babes and Adults, massage onto skin (externally) anytime, bedtime is especially calming.
Ingredients: Organic Sweet Almond Oil, Organic Apricot Kernel Oil, Organic Jojoba Oil, Organic Calendula, Organic Chamomile, Non-GMO Vitamin E Oil.