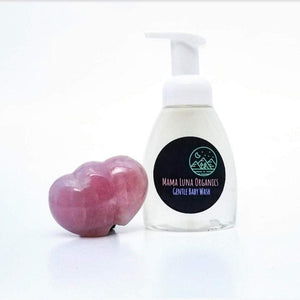 This very gentle wash can be used daily by Babes and Mamas alike. It is made to order and 100% natural so shake it up before each use. It is amazing how harsh most soaps can be, even if they claim to be gentle. Little ones do not need much soap especially newborns. Our wash will leave you squeaky clean and moisturized with a very light natural scent.
It is bottled in a 250 ml reusable foaming bottle.
Directions: Pump desired amount into hands or washcloth and rub externally on Babes or Adults. Rinse with water. Gentle enough for daily use.
Ingredients: Distilled Water, Natural Castille Soap, Jojoba Oil, Pure Essential Oil Blend.