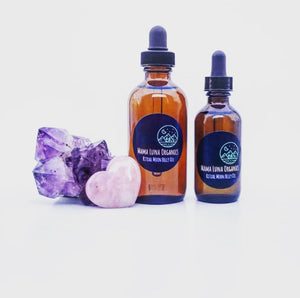 A perfect rubbing oil for nourishing your skin.  Apply as a daily moisturizer on damp skin or use as a massage oil anywhere externally. For best results, apply with gratitude and love of your body and all of the truly amazing things that it does! As with all of our oils, these are slow infused with the highest quality organic ingredients. They are solar and moonlight infused for extra magic.
 This oil pairs perfectly with a Rose Quartz Mama Heart or a Mama Crystal Bracelet.
WARNING: These are kid and pregnancy safe oils however the use of essential oils is not recommended during the first trimester. (Most do not feel the need to massage until the second or third trimester anyhow).
Ingredients: Organic Sweet Almond Oil, Organic Olive Oil, Organic Roses, Organic Jojoba Oil, Pure Essential Oil Blend, Non-GMO Vitamin E Oil.