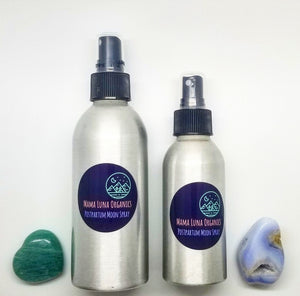 A super healing spray to use after birth instead of toilet paper when using the restroom. With the same speedy healers as our sitz herbs this is just in a convenient spray bottle to use multiple times daily. For best results, pair with sitz herbs baths. 
Ingredients: Witch Hazel, Natural Sea Salt, Red Raspberry Leaf*, Comfrey*, Plantain*, Yarrow*, Lavender*, Calendula*. *Organic Ingredients
Directions: Shake and spray after using the bathroom (instead of toilet paper) or whenever you feel the need after birth. Do not rinse off. For external use only.