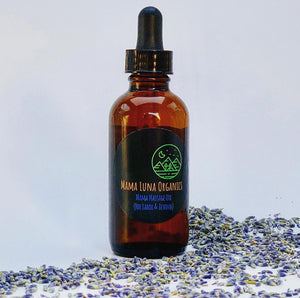 A carefully crafted massage oil to be used during labor to bring on contractions and also to help stimulate lactation. This massage oil is a birth partner or doula's best friend to help bring about active labor and keep Mamas comfortable.
Directions: Use as a massage oil during labor or to bring about labor. Can be used anywhere externally. Also use near armpits and breasts to stimulate lactation. (Do not use near Babe of course).
Ingredients: Organic Jojoba Oil, Organic Sweet Almond Oil, Clary Sage, Lavender, Non-GMO Vitamin E Oil.
Warning: This oil should be avoided BEFORE Labor as Clary Sage can bring on contractions. Our Ritual Moon Belly Oil would be an excellent choice if you are looking for a massage oil during pregnancy.