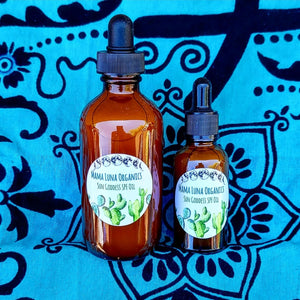 An easy way to protect yourself and loved ones from the Sun's powerful UV rays. Comes in a 1 oz or 4 oz amber dropper bottle. All Organic Ingredients unless noted. Red Raspberry Seed Oil has been shown to have 28-50 SPF
Ingredients: Red Raspberry Seed Oil, Rosehip Seed Oil, Carrot Seed Oil, Argan Oil, Almond Oil, Olive Oil, Distilled Water, Natural Witch Hazel (contains alcohol), Vit E Oil, Vegetable Glycerin, Lavender Oil. 
Directions: Shake well and apply onto skin with hands. Repeat as needed. Safe for kids. Be careful not to get into eyes. For external use only.